The Good Hands Plainwell℠ 2018 Special Fundraising Event raised $6,415!
Thank you to all who participated – click here to learn more!
There are many ways to donate to Good Hands Plainwell℠!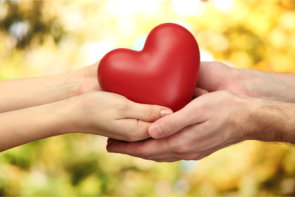 ---
Make a tax deductible donation online through PayPal!
Mail us a tax deductible donation!
Please make your check payable to Good Hands Plainwell℠ and mail it to:
Good Hands Plainwell
c/o Hope Lutheran Church
290 12th Street
Plainwell, MI 49080
---
Wondering how your donation will be used?
During the 2013-2014 school year, an average of 159 children received a bag each week, with a total of 56,695 food items distributed in 5,568 food bags. In addition to that, 1,026 vouchers for free milk and bread were redeemed by the children's families.
---
Other Ways You Can Help Good Hands Plainwell℠
Volunteer for our weekly food bag assembly.

Donate your time as a volunteer to help us assemble the food bags. To volunteer for one of our weekly bag assembly gatherings, please call 269-615-5438 or send an email to Del@goodhandsplainwell.org.
Donate items from our "wish list" to be included in the food bags.
All food must be shelf food; please, NO perishable items! Your food item donations can be dropped off during normal business hours at either Hope Lutheran Church, 290 12th Street in Plainwell or at Clearwater Financial Services, 114 South Main Street in Plainwell.
You can call us at 269-615-5438 to confirm our current needs, but are almost always in need of the following items:
Individual cereal boxes/bowls
100% Juice pouch/boxes
Fruit in individual cups
Instant Noodle Cups
Macaroni and Cheese
Peanut Butter/12-18 oz. plastic
Snack Crackers/individual packs
Pretzel/individual packs
Instant Oatmeal Packets
Shelf Life Milk/8 oz.
Pudding in individual cups
Granola Bars
Pasta-canned ravioli or spaghetti
Raisins/individual boxes 1.5 oz.
Peanuts/individual packs
Cheese sticks/individual packs
Breakfast Bars
Applesauce in individual cups
Soup-canned or individual packs
Cracker packets/crackers with peanut butter
Popcorn/microwave
Hot Chocolate/individual packs
Cheese Pretzels/individual packs
Thank you for helping Good Hands Plainwell℠ make a real difference in our community today!