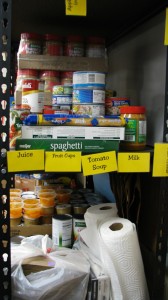 Good Hands Plainwell℠, (formerly Hands2Hands), was founded by retired Plainwell business owners Nancy Heilig, Donna Gorton, and retired Plainwell teacher Delphine Beier.  Start-up funds were generously provided by Hope Lutheran Church and ACCF, with additional assistance provided by Plainwell Community Schools  and the Grand Rapids Feeding America Food Bank.

Good Hands Plainwell℠ is a registered 501(c)(3) corporation formed to provide nutritional support to people at risk in the Plainwell community. We accomplish this goal by providing food items to Plainwell Community School children identified by the school district as qualifying for the Federal Free Lunch Program.

For more information about Good Hands Plainwell℠, please click here to email us.
---
The current members of Board of Directors for Good Hands Plainwell℠ are:
Donna Gorton, President
Shelley Kengis, Vice President
Lexanne Mastenbroook, Secretary
Laurie Krahn, Treasurer
Del Beier, Program Coordinator
Nancy Gregory, Board Member
Karen Gustafson, Board Member
Linda Summerer, Board Member