Welcome to the Good Hands Plainwell℠ Website!
Good Hands Plainwell℠ is a community outreach program in Plainwell, Michigan with the goal of distributing weekly nutritional food to local school children who are in need of assistance.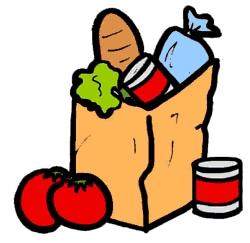 Children selected to receive a weekly food bag are identified by their schools as qualifying for the federal Free Meal Program. Each Friday afternoon during the school year, Good Hands Plainwell℠ provides a food bag for these children to take home to help ensure their nutritional needs are met.
Good Hands Plainwell℠ is funded entirely by donations, and the food bag assembly and distribution is completed by an all-volunteer team. Good Hands Plainwell℠ is also a registered 501(c)(3) non-profit corporation, so all donations are tax deductible.
We thank you for visiting our web site and hope you will consider donating your time or money to help Good Hands Plainwell℠ make a real difference in the life of the children of our community.
---
Local Statistics
The  Plainwell Community School district has 2,747 total students enrolled, of which 33.78% are classified as economically disadvantaged students.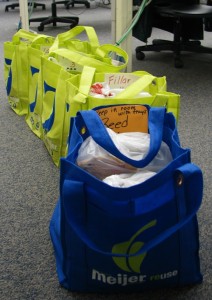 Starr  Elementary has 233 free lunch kids and 16 reduced cost lunch kids, which equals 45.44%  economically disadvantaged students of the 538 students enrolled.
Gilkey  Elementary has 125 free lunch kids and 17 reduced cost lunch kids, which equals 33.26% economically disadvantaged students of the 430 students enrolled.
Cooper Elementary has 51 free lunch kids and 16 reduced cost lunch kids, which equals 26.91% economically  disadvantaged students of the 247 students enrolled.
2013-2014 Good Hands Plainwell℠ Statistics
The average number of children served each week was 159. A total of 56,695 food items were distributed in 5,568 food bags, an increase of over 10% as compared to the prior year. In addition, vouchers for free milk and bread were distributed monthly, and a total of 1,026 vouchers were redeemed.
2012-2013 Good Hands Plainwell℠ Statistics
51,491 items distributed in 5,024 weekend food bags. Snacks were placed in children's lockers and also provided to teachers to use as needed.  In 2013, some snack items were also included into bags distributed at the middle school.  In addition, 143 tubs of cookie dough were donated by an individual, so each child in our program received one.
---
National Child Hunger Statistics*
One out of every six children in the United States, (12.4 million), is at risk of hunger.
Over 62% of children in the US public school systems are on the Free or Reduced Price Meal program.
Childhood hunger can lead to weaker immune systems and increased hospitalization rates.
Poor nutrition early in life can impair neural development and lead to a lower IQ.
Unmet nutritional needs make it difficult for children to learn, pay attention in class or behave properly in order to retain what they learn.
Data shows that a hungry child is sick more often and has a lower level of academic achievement.
*Data courtesy of BlessingsInaBackpack.org and researched through reports published by the USDA.gov and FRAC.org